Click The Play Button Below To Watch This Short Tutorial About Commercial Real Estate Due Diligence. Learn Why You Should Always Review All Tenant Files & Correspondence.
How To Failure Proof You're Commercial Real Estate Investments In 30 Days or Less Without Hitting Any Costly Landmines
Get instant access to our online master class today to learn the simple steps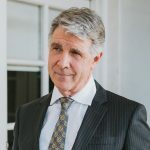 Brian Hennessey
Brian Hennessey has been in the commercial real estate industry for over 30 years as: a commercial broker, Senior Vice President of Acquisitions and Dispositions for a major US investment company, and has run his own real estate syndication/asset management company. He has represented a number of Fortune 500 Tenants including Bank of America, The Walt Disney Company and Baxter Healthcare.
With over 12 million square feet of purchase and sale, as well as lease transactions across the U.S. and more than 2 Billion in transactions under his belt... Brian has built a bullet-proof system for "Failure Proofing" commercial real estate acquisitions. If you're ready to take your investments to the next level, then you should schedule a quick call with Brian. It could end up being one of the most profitable real estate calls you make.